ACCORDING TO EN STANDARDS - CLEAN SKY AND PREVENTION ON WORKPLACE
LIGHTING
No glare, no shadows, no hotspots.. UGR from 8 to 19 depending on model and installation.
High efficiency. More light with far less watts. Lower temperature, extended lifespan, full guarantee.

SAVING
60% to 80% less consumption than traditional LED flood lights. 300 lux with 560W only. Adjustable/Adaptable to any power consume with 1 click.
INVESTMENT
Improved performance means immediate energy saving.
By improving your lights and optimizing their placement (Angles, tilt), you can save up to 70% on your consumption every hour, every day, every month.

SELF-COMSUMPTION
Adding between 1 and 3 panels (Depending on your region) can make your Padel court self-sufficient in power. And the extra power generated can be stored on local batteries or reinjected into the power grid. Public funds can be found and reduced even more the Return On investment
Made in Spain under ISO 9001 - 14001 - 45001
Certify by ILIAC - ENAC laboratories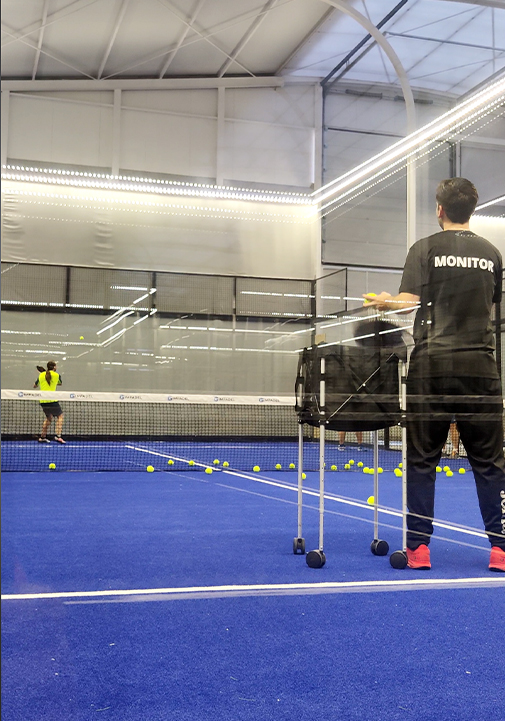 ELLITE PADEL
ELLITE PADEL 1200 is a 60 m linear Lighting system. We light 360ºall around the perimeter and always with an equal distance between LEDs and the court to deliver the best uniformity. The luminaire has an anti-glare and anti-bright lens which improves the visual comfort for the players.

With only 560 watts, we provide a uniformed 300 lux light all over the playground. No standard flood lights can achieve such results. Standard installations are usually built with 8 lights totaling 1840W of blinding LEDs
NO SHADOWS. 560W for 300 lx 0,7 Em and 16 UGR.
Why choosing ELLITE PADEL
ENERGY SAVING BETWEEN 60 AND 80%
REAL DATA WITH 4000ºK CCT

MEASUREMENTS
Ref
W Max
W
Lx

Av

Lx

Max

UGR
ELLITE 480
2500
640
302
391
17
ELLITE 480
2500
1260
501
657
19
ELLITE 800
4100
570
301
392
16
ELLITE 800
4100
1010
502
584
17
ELLITE 800
4100
1454
701
824
19
ELLITE 1200
6200
550
302
411
13
W max.: maximum power recommended by the LED manufacturer (without driver)
W: Selected power to light up the court under standard-En 12.193 with a 0,8 maintenance factor and optimized efficiency for the driver
All data provided is based on ILIAC test reports
Optional: chose your color temperature and IRC
Available drivers: Meanwell, Philips, Osram, Lifud
Available: dimming or programing systems ( APP / PC / Cloud )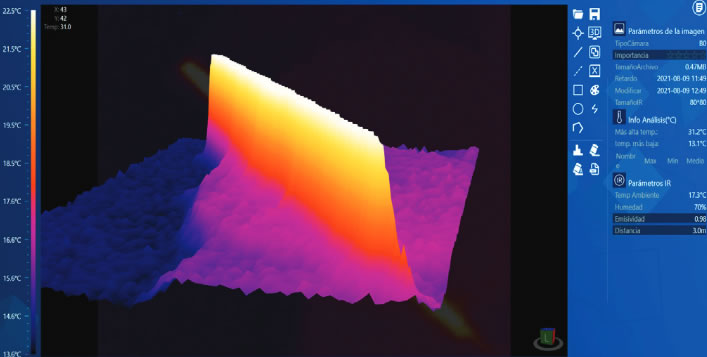 Thermography, Working Temperature of the PCB – LEDs
Ambient temperature: 17,3ºC
Max Temp of the PCB: 31,2ºC
Max Temp recomended of the LED: 105ºC
Difference PCB –  Diode: 73,8ºC security margin
Max difference in between the worst and the best parameter: 4º
Every increase of temperature in the room will increase the temperature of the LED in the same proportions
The room could increase up to 73,8ºC without affecting to the life span
Example: If the room temperature is 30ºC, the diode will work at 48ºC (allowing a 60% margin )
Our low working temperature improves overall performance and generates the best saving

COMPARASION WITH LED PARKING FLOOD LIGTHS
COMPARASION
COMPARISON WITH LED PARKING FLOOD LIGHTS
Most of Padel courts are lighted with LED parking flood lights. They have no lens and are used with a 120º beam angle. The lighting distribution therefore is inefficient with a lot of wasted light outside the court or on the ceiling. This wasted light is where you waste your money.
Not mentioning the fact that these lights do not pass recent EN standards and regulations (Clean Sky, Working Safety).
Don't be fooled by home-made Dialux simulation. Ask independent laboratories results to confirm light distribution, performance (Lumen per watt), color temperature, IRC and conformity to EN standards.
Next, more details:

We surpass traditional LED flood lights and deliver a clean uniform light on your padel court. Players will enjoy a glare free court with no shadows. And you will benefit from an optimized lighting system which is using less energy.
Send us your questions and we will get back to you shortly
ES-48196 Lezama (Spain)
ES-48640 Berango (Spain)
Monday-Friday:
8am – 14pm / 16pm – 19pm
Weekend: closed